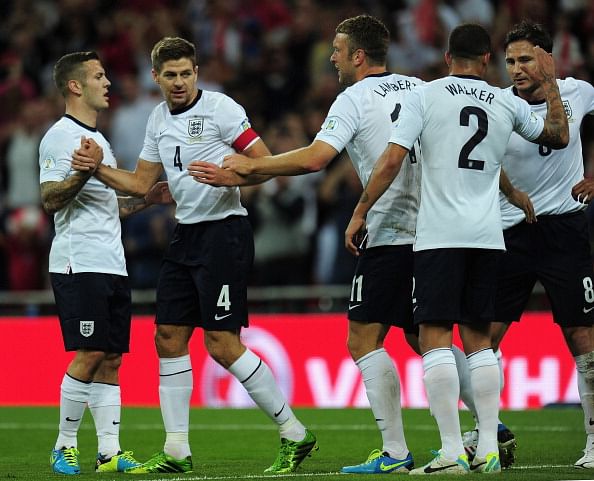 Ok so im an England fan. I am English and I love England. I want and believe that England can win the world cup. I don't see why not. Do they have world class players? Yes (Rooney, Gerrard and Hart are all world class). Do they have a weakness? Maybe at Right back. Secret Weapons? Not really because the premier league is the most watch league in the world, but Sterling, Barkley, Lallana and Shaw may be underestimated.
The Squad has a good balance between youth and experience, they have grafters and flair players. They have a good organised defence and attacking Full backs. My worry for England is Defensive midfielders. They don't have a midfield stopper a guy who is just there to stop people playing and move the ball to the better players. Henderson, Gerrard, Wilshire, Lampard and Barkley are the centre midfield players. Personally I would have taken Carrick over Lampard. Lampard hasnt had a good year but nor has Carrick. Carrick though is England's best passing midfield player and he also intercepts play better than any other England player. he is on stand by so he may get the call but id play him in a 3 man midfield. I suspect they will play Gerrard in that position and maybe try to ustilise Wilshire more. I quite like Ox playing in centre midfield. He played there a few times for Arsenal and I was impressed.
Up front they have some class. Rooney is due a good tournament. Some people say he has underperformed for England but he will end up England top ever goalscorer and has been a star for 10 years for them. He was amazing in his first tournament Euro 2004 but got sent off against Portugal in 2006, England didnt make 2008's Euro, was injured right up to the first game of the world cup 4 years ago and got himself suspended for 2 games in the last tournament 2 years ago. He is due a good tournament and has played well in a poor Manchester United team. They have Sturridge who is a greedy, selfish little bugger but he scores goals and has brilliant ability. I think you need a selfish player up front. Nobody says Ronaldo is Selfish but he is.
I think people outside England may seen Jagielka and Cahill as weaknesses but I actually think they are brilliant. I watched England beat Spain a few years back. The centre backs in that game were Jagielka and Lesscott and they were brilliant. They defended nearly all game and Spain couldn't get passed him. Jags especially was amazing. Joe Hart has the ability to make amazing saves he showed that previously.
The group is tough for England. Ive written that I expect England will qualify out of the group. This is because I expect them to draw against Italy and Uruguay and beat Costa Rica. I Expect Costa Rica to lose to Italy and Uruguay and I expect Italy and Uruguay to draw in their game. As England play Costa Rica last. This means that they will know how much they have to beat Costa Rica by. I don't see Italy scoring to many against Costa Rica.
The problem would be what happens after that. England haven't beaten a decent team in a knockout game since 1996 when they beat Spain in the Quarter Final of the Euro in England (they won that on Pens). Lost to Portugal and Argentina on pens as well as being battered by Germany and beaten by Brazil in the world cup in 02. They have beaten Ecuador and Denmark in recent time. I worry about playing a big team because I don't think they know how to win against them.
In 1966 England won the world cup, Atletico Madrid won the Spanish League, Real Madrid won the Champions League, Austria won the Eurovision and the in the FA cup Final the team that won it went 2-0 down to pull it back and win it. If Real Madrid win this weekend im putting my money on England to repeat history in Brazil.
Star Player: Wayne Rooney
One to Watch: Ross Barkley
Prediction: Hope Winners, Realistic Quarter finals