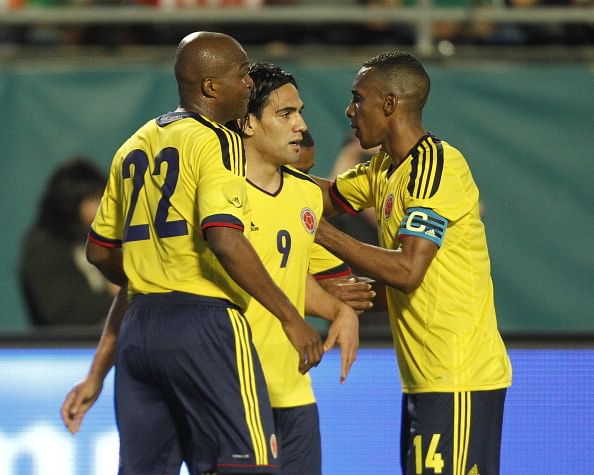 Ive been looking forward to this blog since before I started doing the first blog. Colombia are seen by many as a dark horse. I don't think so. I don't think they are a dark horse. Same as Belgium they are not dark horses they are just a good team. Colombia are in the top 10 consistently nowadays and they have some truly world class players. Mainly Falcao and James Rodriguez but some would argue that Jackson Martinez and Fredy Guarin are as well (not for me).
I like their young players especially Luis Muriel who is a Rapid striker (and I MEAN RAPID). He plays in Italy for Udinese but I don't expect him to be there long. I think a move to the premier league would suit him better. Arsenal or Chelsea ideal. He is 23 and doesn't have many caps but this guy is class and he may well play what with the injury troubles with Falcao. Im shocked Falcao is back. In January he was rules out with a Cruciat Ligiment knee injury and i though that was that but he is at 60% at the moment and only getting stronger. He may well make it. Jackson Martinez and Carlos Bacca (who just won the Europa League) also play up front so may be hard to get him involved.
Defensivly they may not be that strong. They do have Zuniga of Napoli and Zapata of Milan who are really good players but Armero struggled to make an impression at West ham this season and the next biggest name is former Milan player Mario Yepes who is retiring after the world cup. I do like the keeper Ospina who plays in France for Nice. From what ive seen he is a good young keeper.
Just want to mention that they have the oldest player in the world cup playing for Colombia. A chap by the name of Mondragon who is 42 and will be 43 during the world cup. He is a back up keeper and has been playing first team football since 1995. The average age of this squad is probably very high as they have Yepes (38) and Perea (35) Mosquara (32), Ramirez (33) and Soto (33) all over the age of 30.
Star Man: Falcao if he makes it Rodriguez if he doesn't
One to watch: Muriel or Rodriguez
Prediction: Quarter Finals.